Fabric Customer Testimonial: Michael Cox
When Tombras set out to conduct research for a prominent golf brand, they ran into a problem. Tombras needed both in-depth research to probe for insights from particular demographics AND they needed a quick turnaround for the research.
"A lot of times, we get caught with having research options that are either quick but don't exactly give us the depth and fidelity that we need, or they're quality research options and they give us great insight, but they take a lot longer," said Group Strategy Director at The Tombras Group, Michael Cox.
Luckily, Mike wouldn't have to compromise on speed or quality thanks to Fabric's quick strike video ethnography platform.
Fabric: The Sweet Spot of Speed and Quality
For the study, Mike needed to glean consumer feedback on his client's brand from a mix of experienced and new golfers.
"We're working under very short, very compressed timelines. And even though we're under those time pressures, it's still really important for us to get really solid consumer opinion so that we can develop great insights for our campaigns," said Mike.
With Fabric, researchers have access to a massive database of pre-vetted respondents representing a plethora of demographics.
Building Questions with Fabric Study Builder
To get truly in-depth responses from his study participants, Mike took the opportunity to get creative with his golf study. The Fabric platform allows users to take advantage of its video capabilities to ask unique questions that call for more than a brief dialogue. For example, prompting participants to show key items to the camera or asking participants to react to stimuli. 
In his study, Mike asked his participants a few "show-and-tell" questions such as prompting participants to show not only their favorite golf equipment, but also to show what golf equipment they were ready to replace.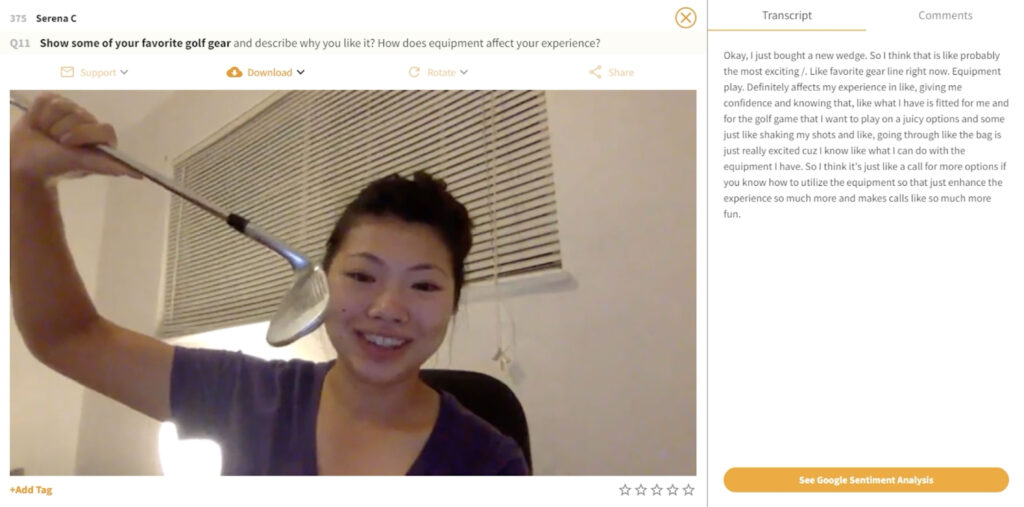 In the end, Mike was able to collect the in-depth data he needed in a timely manner to inform his creative strategy for his golf brand client.
Mike adds: "Fabric made getting access to consumers and getting their opinions in a really quick way really efficient for us. So that has been really helpful for our workstream."