Fabric Customer Testimonial: Gwen Sullivan
Innovation consulting firm sparks+sullivan, set out to conduct market research on consumers fitting a highly specific set of demographic, psychographic, and category-related criteria to inform the development of a new brand strategy for a well-known American-made manufacturing client. 
But there was one problem: she had to fill the unicorn recruit AND collect all the data in one week.
Enter Fabric's do-it-yourself video ethnography platform, which includes the feature of having the platform recruit for her.
Fabric: A Simple Solution for Research Recruitment
The user experience for researchers recruiting on the Fabric platform is radically simple.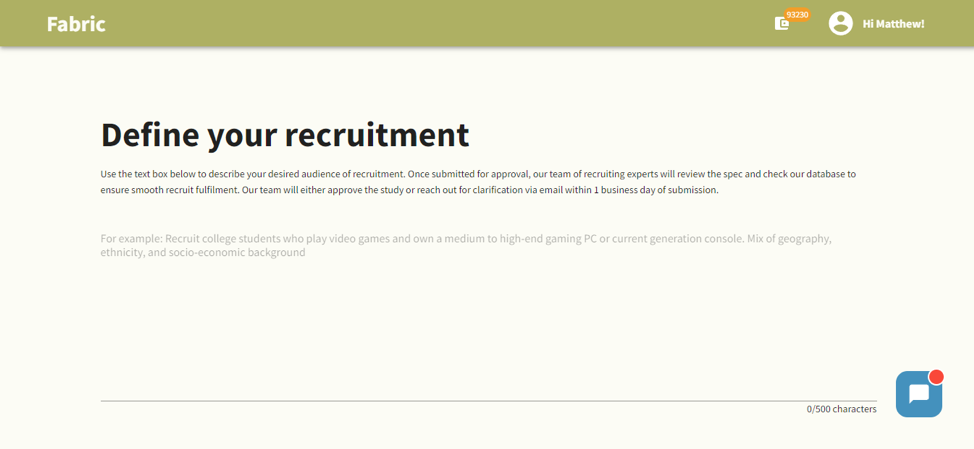 To recruit for her study, all Gwen had to do was enter her list of requirements in an open text field, and submit it to the Fabric team. Her desired recruit spec was approved within one hour because Fabric has a proprietary database of over 300,000 consumers globally.
According to Gwen, "The real magic of the tool is in Fabric's respondent database….they could find the exact types of people I was hoping to have conversations with. And did at a velocity that matched the demands of our project timeline."
From there, Gwen's recruits appeared in her study dashboard, having each self-recorded 10 video responses to the questions she had entered herself in the study builder. 
As Gwen puts it, "I can enter in who I want to talk to, the questions that I want answered, go to sleep, wake up, next morning I get to go to my dashboard and see it populated with all of these people and their responses."
Researchers also have the option to bring in their own recruits if they have a pre-existing list of participants they would like to use in their study. They can be uploaded manually, or via CSV file.
The recruitment cost of using our Fabric respondent database begins at $250 per person (including the recruitment fee of $150, platform fee of $50, and incentive of $50). With this comes access to the Fabric study dashboard which includes:
A 10-question grid of 60-second video responses per participant
Transcripts (machine, and/or premium human transcripts available on demand)
The ability to download respondent videos
Comment field on each video
Tagging to help code themes
Sharing capabilities with customizable levels of permission
With access to the Fabric study dashboard, Gwen was able to "dig into specific clips and videos and really get to know people, get to understand their responses in a way that's so immersive."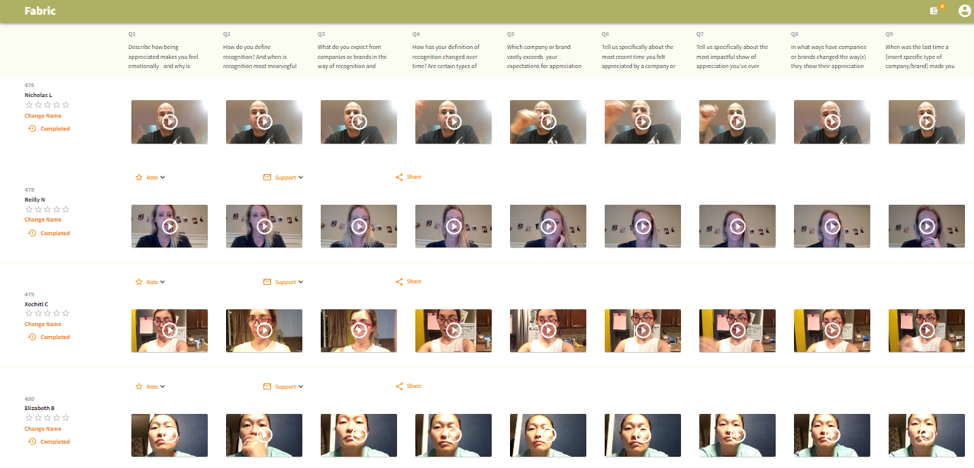 In the end, sparks+sullivan was able to meet its highly specific recruitment specs and was able to make a recommendation to the client on the key strategic issue at hand, all within the compressed time frame.
Gwen's final report included sparks+sullivan's recommendations, supported by verbatims, images of the respondents, and short video clips to bring the findings to life. According to Gwen, "I really couldn't ask for a smoother experience working with Fabric."